The Anti-Revolutionary Representation of the World: The Case of Spain, 1808-1833
La representación antirrevolucionaria del mundo: el caso español (1808-1833)
La représentation antirévolutionnaire du monde : le cas espagnol (1808-1833)
Napolean's defeat of the Spanish monarchy in 1808 opened the political sphere to the entire Spanish population. The consequent revolution set off a counter-revolutionary reaction whose diversity was masked by the common front of the royalists (realistas). Opposition to the revolution was based on a vision of the present as a time of disease and corruption, and the future as a hoped-for return of an eternal world organized by God. A new enemy was created out of the multiple confusions between the French followers of Joseph Bonaparte, liberals, Jews and Moriscos. This counter-revolution led to a dead-end with the death of Ferdinand VII in 1833, but it established a long-lasting image of the public enemy in Spanish political culture.
La ocupación napoleónica de 1808 introdujo brutalmente al conjunto de la población española en la esfera de lo político. La revolución subsiguiente desató una reacción antirrevolucionaria cuya extrema diversidad se difuminaba tras el sentir común de pertenecer a un frente común realista. La oposición a cualquier variante de la revolución reposaba sobre una representación del tiempo presente modulado por la escatología cristiana. Según esta lectura, el mundo se encontraba infecto y corrompido tras el ciclo revolucionario. El horizonte de expectativa se situaba, en consecuencia, en el retorno a los términos existenciales de un mundo eterno e inmutable organizado por la divinidad. Esta cosmovisión comportaba a su vez la construcción de una figura altamente estereotipada del enemigo, condensación de todo mal, en la que se fundían las categorías de francés, afrancesado o josefino, liberal, judío y morisco. La muerte del rey en 1833 condujo a esta vía antiliberal a un punto muerto en lo político. No ocurriría lo mismo con la figura del enemigo creada por ella, que quedaría como un depósito discursivo susceptible de ser recuperado ulteriormente.
Le renversement de la monarchie espagnole par Napoléon en 1808 suscite une ouverture brutale de la sphère du politique à l'ensemble de la population espagnole. La révolution qui en est issue déclenche une réaction antirévolutionnaire massive dont la diversité est masquée par le sentiment d'appartenir au front commun des royalistes (realistas). L'opposition à toutes les formes de révolution repose sur une représentation du présent marquée par la dimension eschatologique de la tradition chrétienne. Le monde présent est malade et « corrompu » et le futur doit permettre le retour à la réalité d'un monde éternel voulu et organisé par Dieu. Elle conduit à la création d'une figure de l'ennemi fruit de l'amalgame entre Français, joséphins, libéraux, juifs et morisques. Si cet antilibéralisme défensif s'avère définitivement une impasse politique à la mort du roi en 1833, il n'en est pas de même pour la figure de l'ennemi qu'il a créée.
Fichier principal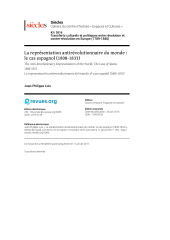 siecles-3066.pdf (285.25 Ko)
Télécharger le fichier
Origin : Publisher files allowed on an open archive