Le modèle républicain d'intégration : implications pour la psychologie des relations entre groupes
Historical and sociological analyses have highlighted the characteristics of the republican model as a specifically French tradition of integration and organization of collective life. However, few research in psychology has examined the perceptions, attitudes or beliefs of individuals with regard to this model. We present the results of several studies that reveal two distinct and orthogonal dimensions structuring the Republican ideology : one related to citizenship and the other related to secularism. Moreover, we show that adherence to Republican principles is not only very high but has important implications for understanding the intergroup perceptions and attitudes of French people, and the acculturation orientations of French immigrants from North Africa.
Des analyses historiques et sociologiques ontmis en évidence les caractéristiques du modèle républicain en tant que tradition spécifiquement française d'intégration et d'organisation de la vie collective. Cependant, très peu de recherches en psychologie ont examiné les perceptions, les attitudes ou les croyances des individus à l'égard de ce modèle. Nous présentons les résultats d'une série d'études qui mettent en évidence deux dimensions distinctes et orthogonales structurant l'idéologie républicaine, l'une reliée à la citoyenneté et l'autre reliée à la laïcité. De plus, nous montrons que l'adhésion à ces principes républicains est non seulement très élevée mais qu'elle a des implications importantes pour comprendre les perceptions et les attitudes intergroupes des Français(es), ainsi que les orientations d'acculturation de Français(es) issus de l'immigration maghrébine.
Fichier principal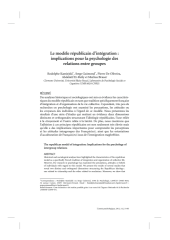 2012-Kamiejski_Guimond.pdf (472.66 Ko)
Télécharger le fichier
Origin : Files produced by the author(s)